Bring you today,
Link :
http://www.positiv-it.fr/thecus/download....0_x64.rar
(64 bits NAS only)
http://www.positiv-it.fr/thecus/download....0_x64.rar
(64 bits NAS only)
ChangeLog :
Code:
1.1

New features:
Per default UrBackup does not use files in the temporary folder as buffer anymore. Reenable this in the "Advanced" tab in settings if your main backup storage is slow and if you have enough temporary space available.
New btrfs specific backup mode which uses snapshots and cross device reflinks See blog entry.
Added spanish translation
Fixed verification of image backups and added verification of file backups


Changes:
Correctly transmit image backup errors
Update backup intervals correctly while the server is running
Better error handling while VHD writing and during image backups
Additional error states and error messages
Added warnings in the web interface about UrBackup not having enough backup space
Use junctions instead of symlinks on Windows if available
Fixed UrBackup such that it runs on FreeBSD
Use CRLF instead of only LF in mail header. This fixed a problem with some mail servers
Fixed infinite loop if the server is unable to delete a full file backup


1.0

New features (See this blog entry for details):
New hashed transfer mode for files and images
New Internet mode which allows backups of clients over the Internet
Archiving of file backups
Starting and stoping of backups in the web interface
Allow throttling of bandwidths. Per client and global


Changes:
Reorganized settings in the web interface into tabs
Fixed a lot of memory leaks
Correctly read default included files
Correctly change the symlinks in Windows (e.g. "current") to point to the correct backup
Better default language selection for server web interface
Truncate file names that are too long for the server file system

0.26.1

Changes:
Added russian translation
Corrected mail sender format, which caused some mail servers to not send reports
Modified the way client-side settings overwrite server-side settings if the client did not change the settings. It also displays a warning now informing about what is happening.
Fixed window calculations if start time is larger than stop time


0.26

Changes:
Changed behaviour on hardlink error
Fixed web interface for IE8
Added include file pattern


0.25.2

Changes:
Ignode new lines in backup folder path
Allow sockets to bind to already used ports
Fixed crash in sql query

0.25.1

Changes:
Allow unicode backup path names
Speed optimizations for VHD file writing
Fixed bug where extra clients could not be removed
Fixed crash occuring with some file names in backup paths


0.25

New features:
Added mailed reports of backups
You can specifiy what client can and cannot do on the server now (start backups etc.)
Added image backup of multiple volumes capability
Optimized performance
Added server database backup
Added setting for no file backups


Bugfixes:
Change english date style to ISO
Fixed ip address printing
Allow statistics updates to be interruptible
Optimized statistics updating
Better file download restarting (Wait 300s for the client not just 8 tries)
Fixed bug which leads to too many transfered files
Better client ip change detection
Better timeout detection during file list construction
Fixed ping error on restoration
Optimized image receiving


0.24:

New features:
Create and restore the 'System Reserved' partition (Win7 + Server 2008) as well
Added cleanup time window
Sped up statistics calculation
Don't crash if temporary file directory is not accessible
Allow changing of temporary directory in Windows
Updated Makefile system for easier setup
Allow clients to be removed
Use google chart if pychart is not available (for statistics)
Allow setting the client name
New setting to exclude files via wildcards
Allow unicode share names

Bugfixes:
Fix build in Solaris
Catch exception if fcgi stream is invalid
Sanitize JSON data for html display
Fixed symbolic link on Windows
Fixed Windows service shutdown
Fixed statistics threading issues
If the directory tree files contain errors stop gracefully and fall back to a full backup
Fixed some file handle leaks
If a backup was done but failed, wait longer for a retry
Fixed bug where paths with ' in them would not be browsable
Increased statistics performance via larger cache size
Stop server if it cannot listen on the fastcgi port
Use Timeouts for queries to not stall during long updates
Do nightly cleanup at local night
Editor Site WEB :
http://urbackup.sourceforge.net/
What is UrBackup?
Urbackup is a client/server backup system, that through a combination of image and file backup accomplishes both data security and a fast restoration time. Single files can be restored fast through the web interface or the Windows Explorer while the image backups can be restored with a bootable CD or USB-Stick.
Features
[*]Full and incremental image and file backups: Whole partitions can be saved as well as single directories
[*]Fast calculation of file tree differences leads to very fast incremental file backups - only new changed files will be retransmitted
[*]Only used and changed hard disk sectors are transmitted during an incremental image backup
[*]Image and file backups while the system is running
[*]Backups of used files. For example Outlook .pst files
[*]Same files on different computers are saved only once. Less server storage space is needed for your backups (file level dedublication).
[*]Fast file and image transmission
[*]Clients can change their settings like backup frequency or number of backups and can take a look at logfiles of their backups
[*]Next to no configuration. Install, select the directories you want to backup and watch it backup
[*]Client warns if there was no backup for some time
[*]Webinterface that shows the status of the clients, current activities and statistics. It allows the administrator to change backup settings and override the settings for the clients. Existing file backups can be browsed and files from these backups can be extracted.
Is my system supported?
UrBackup runs on Windows and Linux. The client currently only runs on Windows.
Do I really need a server? Why isn't my external USB drive enough?
Yes you do. Without a server your data cannot be secure. One example would be a virus that deletes your data while you are running a backup on your external hard drive. Because it is plugged in, the virus can delete both copies: The backups and the original data. If you unplug the external drive after the backup is done you may forget to plug it in for the next backup again. You should really consider investing in a backup server. Because it is both more comfortable and secure.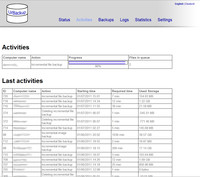 Stéphane Guérithault
In a world without walls and fences, who needs Windows and Gates
PayPal Donation:
https://www.paypal.me/qoolbox
My apps
##########################################################################

rolling now for competitor, i do not support anymore Thecus apllications due to lack of time

##########################################################################
voyance
-
Sophrologue Hypnothérapeute Essonne